Make the Moon Your Lab
Lab2Moon challenged the brilliant young minds of the world with a unique task: to build an experiment – physically no bigger than a soda can – that would help humanity catalyze multi-planetary life. The winning experiment would then be carried by the TeamIndus spacecraft to the Moon.
The applicants were asked to think big, dream bigger, and present their experiment to an expert panel of:

Dr K Kasturirangan,
former chairman, ISRO

Dr Alain Bensoussan,
former head, CNES

Dr Priyamvada Natarajan,
department of astronomy and physics, Yale University
We received over 3,000 entries from 15 countries. The semi-finals saw 15 teams defend their experiments, and struck by the immense potential of the experiments, the panel finally recommended that we fly not one, but eight different experiments to the moon. Working with these creative young people has brought TeamIndus Foundation that much closer to its goal of inspiring the next billion to aim for the moon, and shoot for the stars.
Winning Entry:
Space4Life
Idea: Radiation Shield Using Bacteria
Team Members: Mattia Barbarossa, Dario Pisanti, Altea Renata Maria Nemolato
Origin: Naples, Italy
Radio-Shield is our experiment to test the effectiveness and efficiency of an innovative radiation shield: BIOS. BIOS, or cyanoBacterial radiatIOn Shield, innovatively employs biomass as radiation shielding material. It is composed of a colony of cyanobacteria — primitive photosynthetic prokaryotes able to resist extremely harsh conditions.
Runner up: Team ZΩI
Idea: Photosynthesis On Moon By Extremophile Cyanobacteria
Photosynthesis forms the basis for almost all life on earth, and we want to know if it can take place with the moon's very hostile conditions. To test this, we have devised an experiment using not plants but extremophile cyanobacteria, specifically Chroococcidiopsis or Gloeocapsa, which have already survived 548 days outside the ISS in low earth orbit. Cyanobacteria are considered the toughest photosynthetic organisms ever found.
Shortlist #1: Team EARS
Idea: Electrostatics Active Radiation Shield Experiment
Team Members: Saumil Bharat Vaidya, Aishwarya Ajit Mungale, Aniket Anant Kamat
Origin: Mumbai, India
For space agencies around the world, protecting space travellers from deadly radiation is one of the greatest challenges. Most of the radiation in space consists of charged particles.
READ MORE
Inspired by the common use of electric fields to deflect the beam of electrons in cathode ray tubes, we want to explore the possibility of using an electrostatic field to deflect radiation. This would enable us to build an electrostatic radiation shield around spacecrafts and lunar habitats to offer better protection.
show less
Shortlist #2: LunaDome
Idea:Inflatable Dome Experiment
Team Members: Samuel Brass, Nicholas Doughty, Elliot Robinson
Origin: UK
LunaDome is an experiment designed to sustain an earth-like atmosphere in a small dome on the lunar surface for a prolonged period of time.
READ MORE
The device will consist of a small bottle of air compressed to roughly 60 bar which will supply the air necessary to inflate the flexible dome to its full size. Radiation from the sun and internal heat loss will cause the pressure in the dome to deviate from the desired value of 1 bar. The experiment will test the control system required to maintain these pressure levels.
show less
Shortlist #3: Team KALPANA
Idea:Instrument For Lunar Dust Analysis
Team Members: Manabesh Panda, Sandeep Kumar Sharma, Subin C P
Origin: Kharagpur, India
A major concern reported by manned moon missions has been the dust that sticks to space suits even after short extravehicular activities.
READ MORE
It causes devices to malfunction, thermal control coatings to degrade and errors in measurement. Our experiment will study the physical and dynamical characteristics of the lunar dust that rises due to the impact of the lunar lander.
show less
Shortlist #4: Killa LAB
Idea: Testing Microbial Growth And Decomposition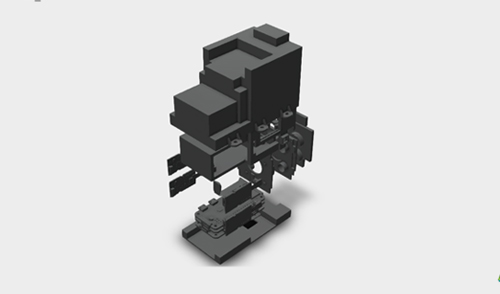 Team Members: Ruth Estefany Quispe Pilco, Sofia Cristina Ana Rodriguez Venturo, Williams Kevin Solis Quispe
Origin: Lima, Perú
Exposure to space radiation may be a limiting factor in future manned lunar missions. The Moon's surface is subject to ionizing radiation, desiccation, high ultraviolet radiation and extreme temperature fluctuations.
READ MORE
Our test will use a biofilm of cyanobacteria isolated from extreme environments and expose it to intense radiation to understand the decomposition kinetics on the Moon's surface.
show less
Shortlist #5: Callisto
Idea:Lunar Dust Accumulation Analyser
Team Members: Suvin Nair BS, Ravneet Kaur, Vishal Singh
Origin: Dehradun, India
The main mission objective is to design, build and operate a dust analyser package which consists of two parts: a magnetometer, which will tell us about the magnetic properties of lunar dust; and a set of solar cells, to determine how fast dust accumulates on them by calculating the net voltage drop from the panels.
READ MORE
This will help determine the feasibility of electricity generation using solar power plants on the moon.
show less
The data results from their experiment has the potential to dramatically impact mankind.
former chairman, ISRO, and Lab2Moon jury member Dr. K Kasturirangan
We all had an incredible experience in the finals! The other teams were very like-minded and each have great experiments  —  we hope to see our experiment alongside theirs on the spacecraft!
Sam Brass, LunaDome
On a day-to-day basis, we may not be able to feel it, but overall we have come so far with the experiment we have now and how much we have learned
Saumil Vaidya, Team EARS
Lab2Moon is just the first step in our quest to catalyze humankind's efforts to become a multi-planetary species.
If you'd like to contribute to our efforts, get in touch with us today!